Simpli Dry is the perfect avenue for women who need an express treatment to have that impeccable look. It is situated in Plaza Batai with convenient opening hours as early as 7:30am – 7:30pm on Weekdays and 9:00am – 7:00pm on Weekends.
6-3A (1st Floor) Jalan Batai,
Plaza Batai, Damansara Heights,
50490 Kuala Lumpur
–
Email: inquiry (at) simplidry.com
Tel: +603- 2011 6161
Hair treatments & Short Massages
Check out our Simpli Rest & Repair services, where we offer scalp treatment for hair loss & hair treatment to replenish the moisture to your hair…making it soft and shiny again.. We'll quickly get you to looking your best, in a comfortable and convenient location.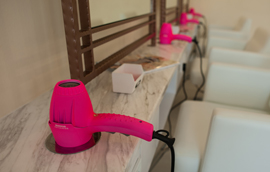 Simply Rest & Repair

 

Prices (RM)
Hair Treatment
180
Scalp Treatment
220
Express Hair Treatment
88
Shoulder / Neck Massage
18
Scalp Massage
15
Value packages for Blow Dry & Hair Treatments.
Manicure & Pedicure

 

Prices (RM)
Express Manicure
22
Express Pedicure
28
Essential Manicure
43
Essential Pedicure
55
OPI Spa Manicure
63
OPI Spa Pedicure
75
Gel Polish
45
Buffing
20
IBX Nail Treatment
59
Manicure & Pedicure daily available from 9.30am – 7pm.
We are here to save the world from bad hair days and grubby nails.
Service

 

Prices (RM)
Wash & Blow
45
Wash & Blow (Premium shampoo & conditioner)
50
Blow Dry Only
35
Updo
48
Little Princess Wash & Blow
25
Simpli Rest & Repair

 

Prices (RM)
Hair Treatment
180
Scalp Treatment
220
Express Hair Treatment
88
Shoulder / Neck Massage
20
Scalp Massage
18
Simpli Dry Specials (Can be used for blow dry & treatment)

 

Prices (RM)
380
Value 418 (free 10%)
680
Value 782 (free 15%)
980
Value 1254 (free 28%)
1280
Value 1766 (free 38%)
Manicure & Pedicure

 

Prices (RM)
Express Manicure
22
Express Pedicure
28
Essential Manicure
43
Essential Pedicure
55
OPI Spa Manicure
63
OPI Spa Pedicure
75
Gel Polish
45
Buffing
20
IBW Nail Treatment
59